About the IQVIA CORE Diabetes Model
Applications
The IQVIA CORE Diabetes Model(IQVIA CDM) is accessible via the internet and simulates clinical outcomes and costs for cohorts of patients with diabetes. Drug therapies, lifestyle interventions, public health programs, medical devices and surgical interventions can all be modelled using the IQVIA CDM. It is also one of the very few models that can simulate cohorts with either type 1 or type 2 diabetes mellitus.
The IQVIA CDM can be used for multiple purposes to estimate the impact of interventions on clinical and cost outcomes, as well as a range of economic analyses (cost-effectiveness, cost-utility, cost-benefit or cost of disease). It can also be used to identify potential high risk patient profiles. The outputs of the model include:
Life expectancy
Quality-adjusted life expectancy
Direct costs
Indirect costs (productivity losses)
Direct costs differentiated by class of complication
Cumulative incidence and time to onset of complications
Probabilistic sensitivity analysis, including scatter plots and cost-effectiveness acceptability curves
Survival curves
Physiological parameter progression data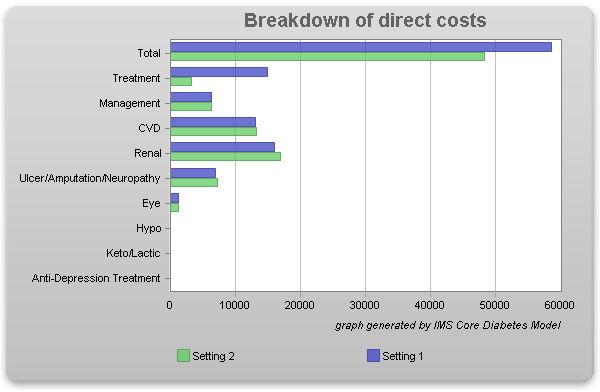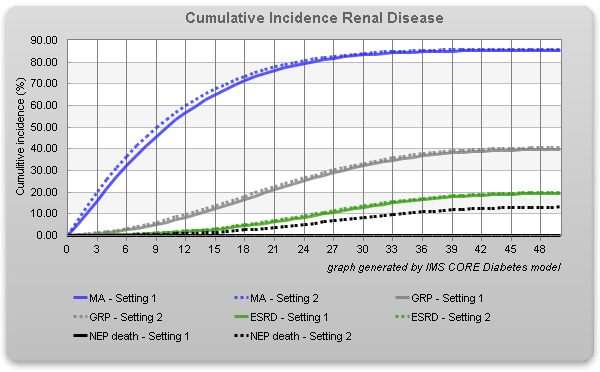 Examples of figures created by the CDM for each simulation: breakdown of direct costs and cumulative incidence over time of renal disease
The modular format allows detailed customization of analyses. Input parameters include:
Patient demographics and baseline risk factors
Treatment effects
Treatment costs
Mortality risk
Costs of complications
Costs of other medication and lab tests
Transition probabilities or event rates for certain complications
Relative risks for treatment effects on complications of timing for treatment failures and switches
The model structure
The IQVIA CDM comprises 17 inter-dependent sub-models, using Markov modelling with tracker variables running in yearly cycles. The time horizon can vary between one and fifty years. Direct and indirect costs can be incorporated, so both health system and societal perspectives can be modelled.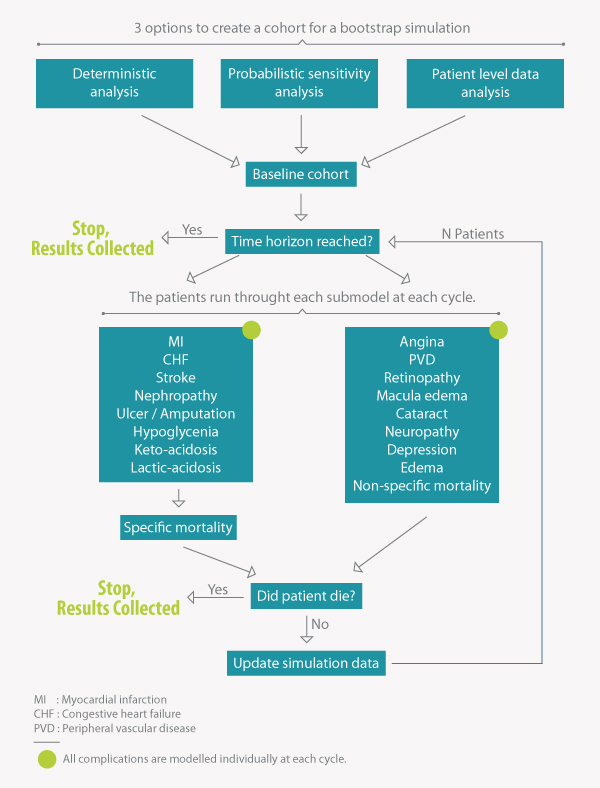 Only diabetes-specific model with a web-based interface
The IQVIA CDM operates with an executable code linked to a user front-end. The IQVIA CDM differs from other diabetes models only in that the front-end is a web-interface as opposed to Excel spreadsheet. The justification for this centralized approach is improved version control, security and consistency. The IQVIA CDM€™s underlying calculations are performed using compiled code to reduce computation time. By contrast, a model coded in Microsoft Excel would take up to 90 times longer to run compared with one using compiled code. Given the complexity of the IQVIA Health CDM, a compiled code is the only practical solution.
How does it work?
The IQVIA Health CDM is an internet application linked to a mathematical calculation model and structured query language (SQL) database sited on a central server. The structure is based on four separate elements: the user interface, the input databases, the data processor, and the output databases.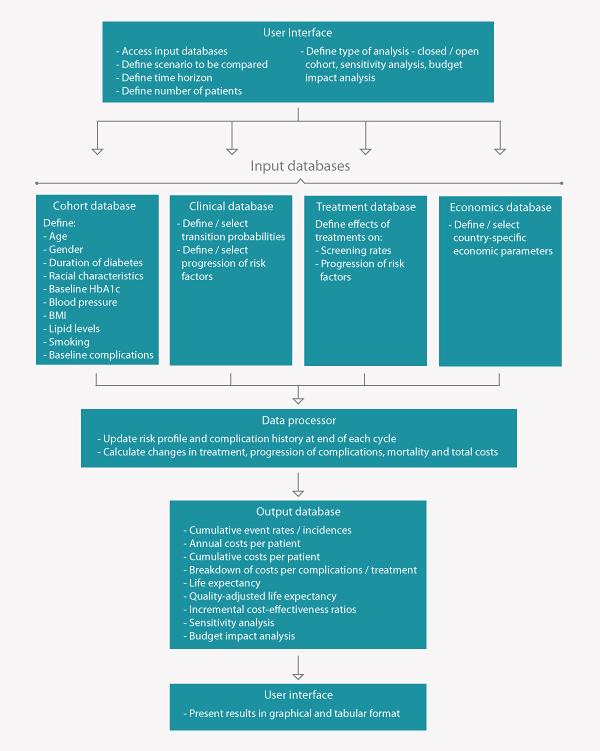 Model validation
The IQVIA CDM was initially validated in 2004 to demonstrate the operational and predictive validity of the model against 66 endpoints from eleven epidemiological and clinical studies (Palmer AJ et al. 2004). Respective correlation analysis on results from 66 validation simulations produced an R value of 0.92 (perfect fit = 1). Validation analyses in type 1 and type 2 diabetes were associated with R2 values of 0.98 and 0.89 respectively. Further, R scores were separately analyzed to assess the internal and external validity of the IQVIA CDM.
Since initial publication, the IQVIA CDM has undergone a considerable number of scientific and technical updates. Following these, it was essential to demonstrate that the CDM remains an accurate representation of the system it is designed to simulate. As a consequence the IQVIA CDM version 8.5 was re-validated in 2013 against a larger number of studies. Based on recently published recommendations from the International Society for Pharmacoeconomic Outcomes Research (ISPOR) and Society for Medical Decision Making (SMDM) Task Force on economic modelling, the revalidation did not only address operational validity but also assessed if the model is coded as intended and is free of errors.
The latest validation studies resulted in an overall R goodness of fit statistic of 0.90. A summary of the R statistic results from IQVIA CDM validation exercises produced in 2004 and 2013 is presented in table 1. The latest revalidation study was presented at the American Diabetes Association 72nd Scientific Sessions in 2012 1 and has been submitted for peer reviewed publication.

R goodness of fit statistics from IQVIA CDM validations produced in 2004 and 2013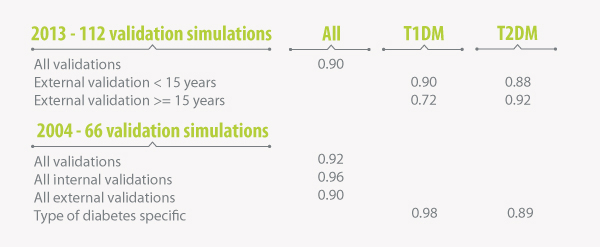 T1DM: type 1 diabetes mellitus, T2DM: type 2 diabetes mellitus 1
Overall, the revalidation study confirmed the IQVIA CDM as a credible tool for supporting policy decisions relating to disease management in T1DM and T2DM.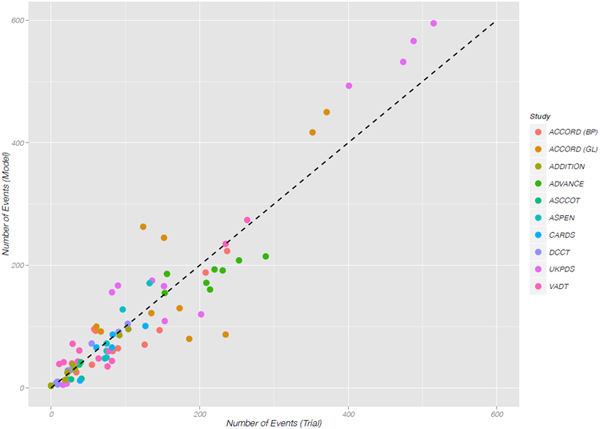 Scatterplot of observed versus predicted endpoints across all external 2013 validation studies. External validation coefficient of determination, (R2 = 0:90) 1
Committed to continuous improvement
A team of developers is committed to the continuous development, maintenance and testing of the IQVIA CDM. New features are regularly added to the model, its clinical inputs are updated and its outcomes validated. Since initial publication, the IQVIA CDM has undergone a considerable number of scientific and technical updates. Scientific updates were concerned with the incorporation of new clinical data and/or risk equations to reflect new assumptions in the modelling process. Examples for structural updates include the ability to model individual patient level data, incorporation of treat-to-target efficacy data for HbA1c, expansion to the number of variables included in probabilistic sensitivity analysis and many others.
The IQVIA CDM team also takes part in the Mount Hood challenges, which is a forum for diabetes modellers to compare the predictions of different models on the vascular and other diabetes complications in different settings. Other aspects of diabetes-related health economic research are also discussed. The IQVIA CDM performed very well during the last editions.
1. Grant D. et al., Long-term validation of the IQVIA CORE Diabetes Model in Type 1 and Type 2 diabetes, Presented at the 72nd Scientific Sessions of the American Diabetes Association (ADA), Philadelphia, PA, USA, June 8€"12, 2012